PALLET-Express v4 the most advanced paramatric software for designing and determining the load capacity of standard and non standard wooden pallets.

WHAT EXACTLY DOES PALLET-EXPRESS FEATURE ?
Designing a pallet must take into account a number of requirements that basically can be collated into three categories.
Functionnal requirements:
A pallet designer must satisfy a set of precise client specifications and supply all necessary production adn quality control documents.
To achieve these objectives,
PALLET-Express v4
provides the following functional features : a comprehensive library of geometric layouts (e.g. pallets with stringers, blocks, notched stringers, perimeter base, holed top decks, asymmetric pallets), 2D drawing layout, realistic 3D renderings, spec sheets (part dimensions, scaling, shrinkage, assemblies), detailed costs per item (material, transport ...), freely editable and configurable global report.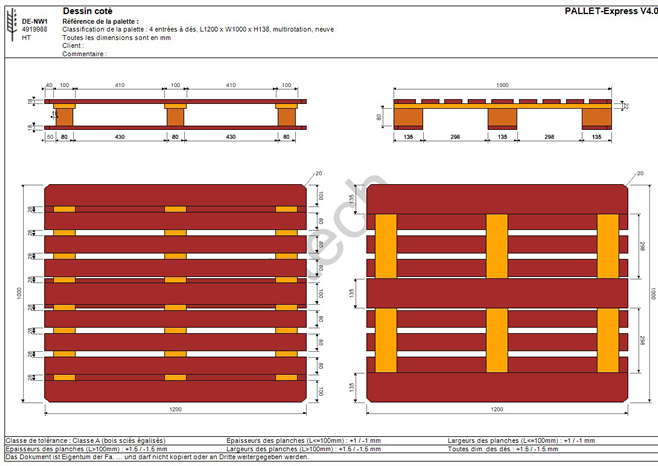 Commercial requirements:
Wether printing a comprehensive quote or enjoying the software's aesthetic and ergonomic attributes for use at meetings,
PALLET-Express v4
yields a significant commercial advantage.
Mechanical performance:
The methods applied to evaluate mechanical performance (strength, strains, deformation), intended stricly to ensure the safety of goods and people, rely upon the physical test of pallet samples built to be submitted to a series of tests, in accordance with procedures such as those stipulated in
ISO 8611
.
By making use of reliable numerical models and accurate simulation methods, the tests conducted on the basis of
PALLET-Express v4
numerical pallet models can prove as effective as physical prototype testing. Above all, they offer the advantage of providing a lower-cost decision-aid method prior to launching laboratory testing campains that obviously entail greater costs.
In this aim,
PALLET-Express v4
includes a powerfull computation engine for the mechanical analysis of standard and non standard wooden pallets:
according to the three main ISO 8611 tests, fully automaticaly
under user-defined loading conditions
in stock-, transport- or transshipment-situation
stacked or not.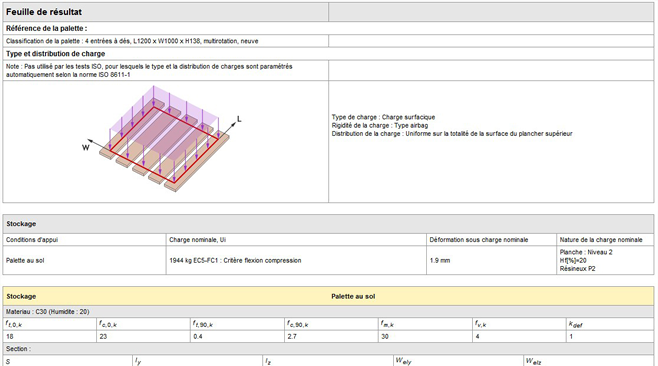 A STATE OF THE ART SOFTWARE !
Always as easy to use, the fourth 4 of PALLET -Express significantly expands the design possibilities of non standard wooden pallets. Its exclusive european computation option, that allows the analysis of the ISO 8611 load capacity, and the latest knowledge in computing wooden pallets make of PALLET-Express an international reference !
With many automation, PALLET-Express v4 allows you to make a technical or business proposal very quickly, and to attest of the performance of the palette that you designed.